SpaRitual is a vegan nail lacquer that improves lives holistically and naturally using numerology and color theory.
Even though SpaRitual has a huge spa presence, they have no retail store presence. This provides a huge opportunity to expand to non-spa-goers.
Unwind - a digital/guerilla campaign focused on slowing down and enjoying life.
Enlightened Ladies: Womxn that frequent urban areas. Open minded. High Standards. Always connected. Take pride in their appearance, but not at the price of the environment. Don't believe they should have to pay someone to paint their nails for them.
Improving lives, holistically and naturally, each shade is associated with a unique message or meaning and numerological value. SpaRitual uses vegan and organic ingredients, do not test on animals, free of synthetic materials, and constantly monitor sustainability issues.
Eco Pods popped up in major cities across the nation. Interrupting walking paths, inviting womxn in for free manicures.
Numerologists, Color Theorists, and Manicurists
There is a numerologist, a color theorist, and a manicurist in every eco-pod. The numerologist figures out your numerology and explains it to you. The color theorist shows you an array of colors that match up with your numerology and tells you the meaning behind the colors you have to choose from. The manicurist gives you a manicure on your dominant hand, while she explains the process and the meditative qualities involved in painting your own nails. When she is finished, you have the option to sit in the environment and finish the manicure on your non-dominant hand.
The walls inside of the eco-pods react to touch. Upon entering, you choose your environment, and then are immediately immersed in it. The walls change, a live-stream from that environment plays low in the background, and scents related to the environment are emitted, for a fully immersive experience.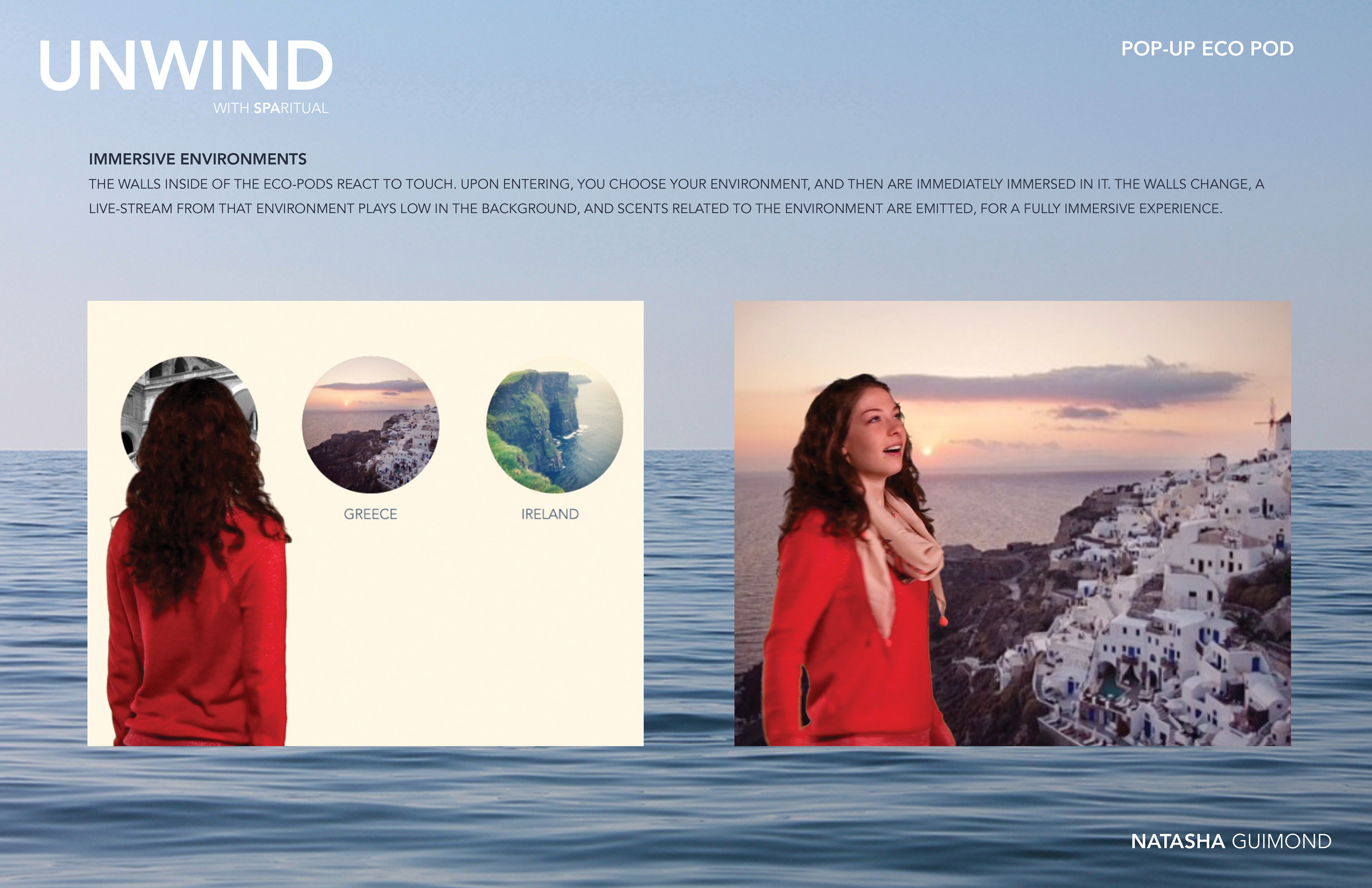 Play and Subscribe All in One Place:

The microsite houses a bejeweled-like game that you can play to win prizes, like free subscriptions and trips to zen destinations. Signing up for the new subscription service is also handled through the microsite.
Continuing the Campaign into the Mobile Market:

An app was created that suggests matching and complimentary colors by analyzing photos, and an option to buy online or find the closest spa that sells it.
New Subscription Service Gets You Ready For the Upcoming Season:

One nail lacquer is sent out every season, taking into consideration your numerology and personality quiz answers, along with a surprise gift from another retailer. You'll also get a personalized write-up about your life and the upcoming season. If it's your first package, you'll receive a manicure set. After that, a new set will arrive annually.